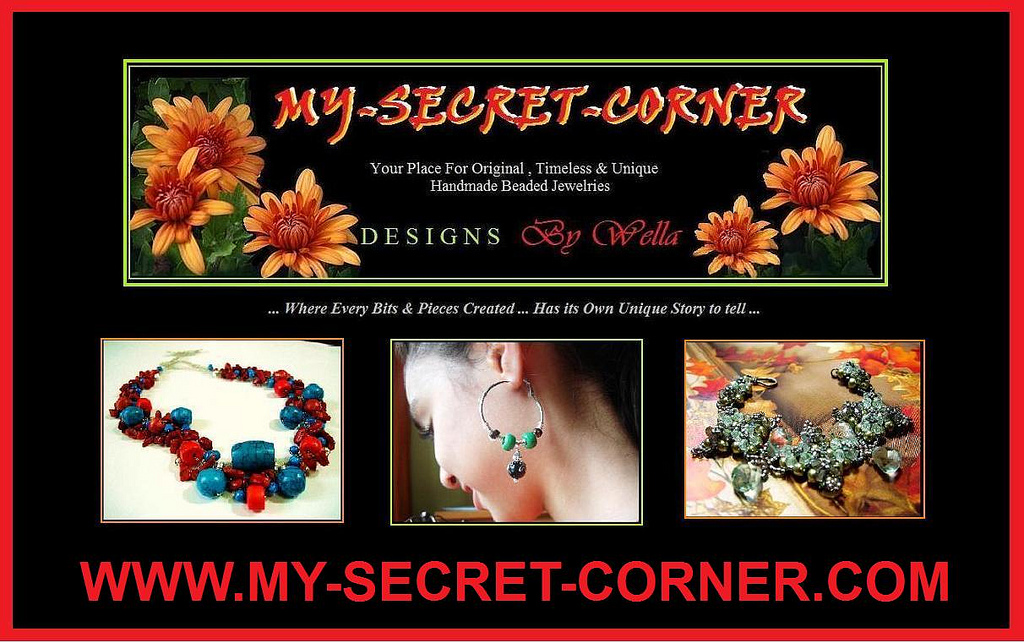 Here is where my story had started ...
Where my passion's journey had begun for the very 1st time ....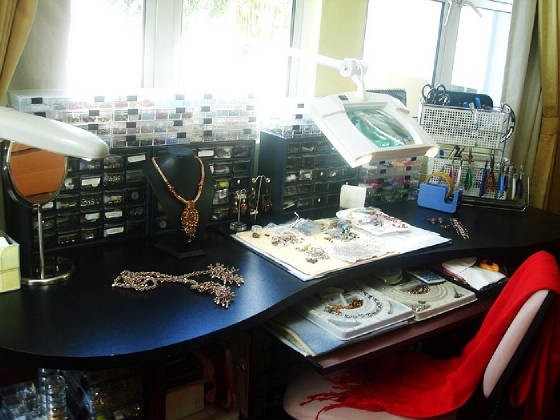 Originally was a name I came up with referring to a small side space with an office table facing a corner window being used as a hobby corner to mend & sew some knicks knacks , where I fold the laundered clothes ready for ironing and when time permits , as a beading area during any lazy hours ( if there's any lazy hour at all ) . It was a calm & peaceful hobby place created out of passion in 2003 . In the beginning , beading was actually just a simple pastime for me as a busy mother of 4 whose dedication to the craft was endless . The said "hobby" which created a number of simple yet unique & admirable jewelry items suddenly became in demand not only on yahoo auctions but also on ebay as well. Thus giving way to the gradual transformation of the said leisure activity into a small home based online business on ebay & yahoo auctions a few years back . Presently, the website had branched out to other websites like etsy, artfire, weebly , jimdo and still maintaining the ebay store in Singapore , Philippines and Australia site. It was only in 2005 that this online website finally came to reality with its own domain created all by myself from scratch.
- Flowers Of Spring -
Capture the Blooming Flowers in Their Lovely State & Glory
Creating Unique & Timeless Jewelries not commonly found in local malls & boutiques is actually the main focus of this place. Finished Handmade Jewelries such as :
Necklaces
,
Bracelets
,
Earrings
are the most sought after products ever since . I do create pieces that customers and gift recipients can treasure for years. Custom made items are always welcome as long as I have the materials needed to create that special piece for you.
Lovely selection & vast array of designs for Earrings, Bracelets & Necklaces created with artistic precision using the finest quality beading materials ( Semi-Precious, Austrian Crystals, Czech / Indian Glass Designer Beads, 925 Sterling Silver, Pewter , Brass , Plated Metals, etc. ) will surely suit anyone's taste . No items are exactly the same and each piece is painstakingly handcreated especially just for "YOU"!
Although Handmade Bead Crafts was so diverse in the market today, other products such as accessories (
key chains
,
glass holders
,
bag charms , phone charms
, etc ) were also introduced and became part of new products being offered for sale .
My-SECRET-Corner
takes pride in giving exceptionally Excellent Quality products & maximum great service .
If you're happy & satisfied with your purchase ... you had just given me the inspiration to create & serve you even more !
I am pleased to invite you to check the Web site for new items from time to time.
Please send email to mysecretcorner_au@yahoo.com if you have any questions about quality, or how to use a particular product. I would be happy to serve you as much as I can.
Check My-SECRET-Corner on Youtube !
Jewelry Review ...

MY-SECRET-CORNER

would like to thank the Publisher, Editors & staff of CMP Asia Ltd. for having some of the jewelries featured on the Dec 2006-Feb 2007 issue of

ASIA'S fashion Jewellery & Accessories Review

( see page 14 - 16 of the magazine ) . It's one of Hongkong's Prestigious Jewellery Review magazines which features the latest trend ,styles & up coming events / exhibitions in the jewellery world ! Check it out !