X-mas
Gift - Craft & Home Fair
Saturday December 3rd ~2011
9.30am-3.30pm
South Perth Community Centre
Cnr Sandgate St & South Tce
My-SECRET-CORNER's
Stall was there ...
Admission: $4 adult's - kids FREE
The Biggest Outdoor & Community Fair in WA !
Subiaco Craft & Community Fair 2011
---------------------------
Sunday 23 October 2011
10.00am to 4.00pm
ON THE UWA OAK LAWN, HACKETT DRIVE, CRAWLEY
Entry donation : $5 (Adult),$8 (family)
GREAT ENTERTAINMENT & FREE RAFFLE PRIZES TO BE WON
Visit My-SECRET-Corner at Stall no. #167
***********************
Singapore Arts Museum
January 30-31 , 2010
My friend Marilyn of "FEWS" had invited me to join a bazaar at the Singapore Arts Museum for 2 days. There's a Filipino Exhibit at that time featuring the Culture & Traditions of Filipinos and the filipino community had requested me to showcase my jewelries. It was so much fun and delight to be part of the event. Thanks to Marilyn and friends who came to support me.
Mabuhay !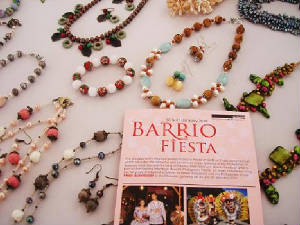 ****************
~ "FEWS" 5th Anniversary Party ~
Hilton Hotel Singapore ~ Nov 2009
My fellow members of "FEWS" had given me the opportunity to put a table for charity I had organized ~
~The Angel's Touch~
- Fund Drive -
during their 5th Year Anniversary.
The proceeds from the sales of Angel inspired earrings, a few keychains & phones straps I had personally designed with different Angel charms I have in stock
went to
My-SECRET-Corner's
"ANGEL'S

TOUCH"
fund campaign . It had benefited ( for the month of December 2009 ) the poor flood evacuees in Sta. Cruz Laguna, Philippines who were gravely affected by the previous typhoons Ketsana & Santi .
******************************************
~ Asian Civilisations Museum (ACM) , ~
1 Empress Place Singapore
Nov 7, 2009
On the spot interview with celebrity host Ms. Pamela Wildheart before my necklace making Demo on the 2nd day of the event ... Gee, I feel like a celebrity too ha-ha !
I was so thankful to all the assistance, support given by the organizers ( Mr Zachary and his staffs especially ) who allowed me to put my jewelries on display for FREE for 2 straight days !

To all New friends and existing friends of course who came over and visited my stall.

Thank you, thank you and more thank you guys !
********************

" BEADING PARTIES "
Carly's B-day Party #10 Cuscaden Walk
Feb 7, 2009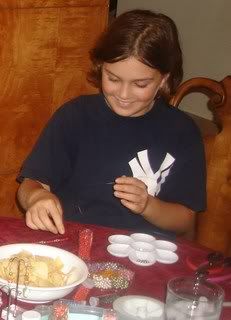 It was Carly's B-day party !
8 Young Girls doing their Jewelry sets ( Necklace, Earrings & Bracelet ) as their Birthday Give-aways. It's a great time keeping this age group in one place and teaching them the value of friendship , cooperation and being creative. Lack of experience isn't a problem as materials & tools are offered + follow up instructions and guidance was present during the event. All girls were happy to take home their finished jewelries at the end of the day . Nice work Girls !
" FASHION FAIR "
Plaza Singapura Sept 25-27 2008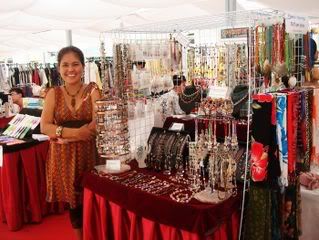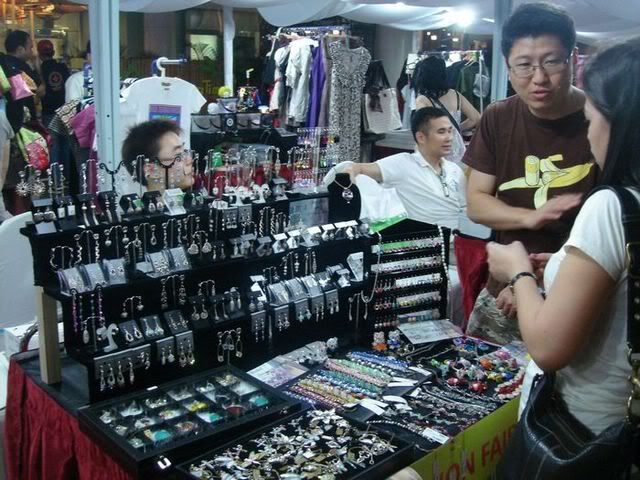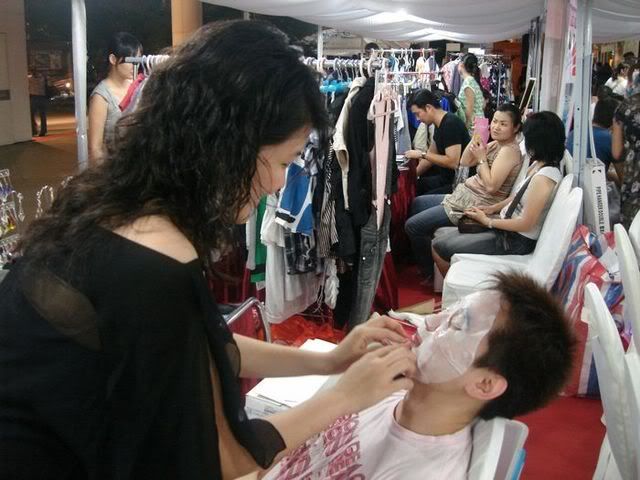 This is probably the most friendliest Bazaar I had ever attended. All Vendors I had encountered were all local Singaporeans ( Chinese, Malay, Indians ) I was the only Filipino but I felt so at home with them. We chatted and shared some laughs among ourselves which is a good part of the event . Friendship among vendors is a great experience indeed. Whether we sell similar items or not doesn't matter at all. We exchanged some ideas and tips to boost our business. There's no greediness and selfishness which was really great !
The only negative part was = the venue which was near Plaza Singapura was like a sauna ... it was way too hot during the daytime. So we're all happy when the afternoon is over coz we start getting cooler air / breeze at last.
" SHOP AT THE BRITISH CLUB "
BRITISH CLUB Bukit Tinggi Rd = OCTOBER 4 , 2005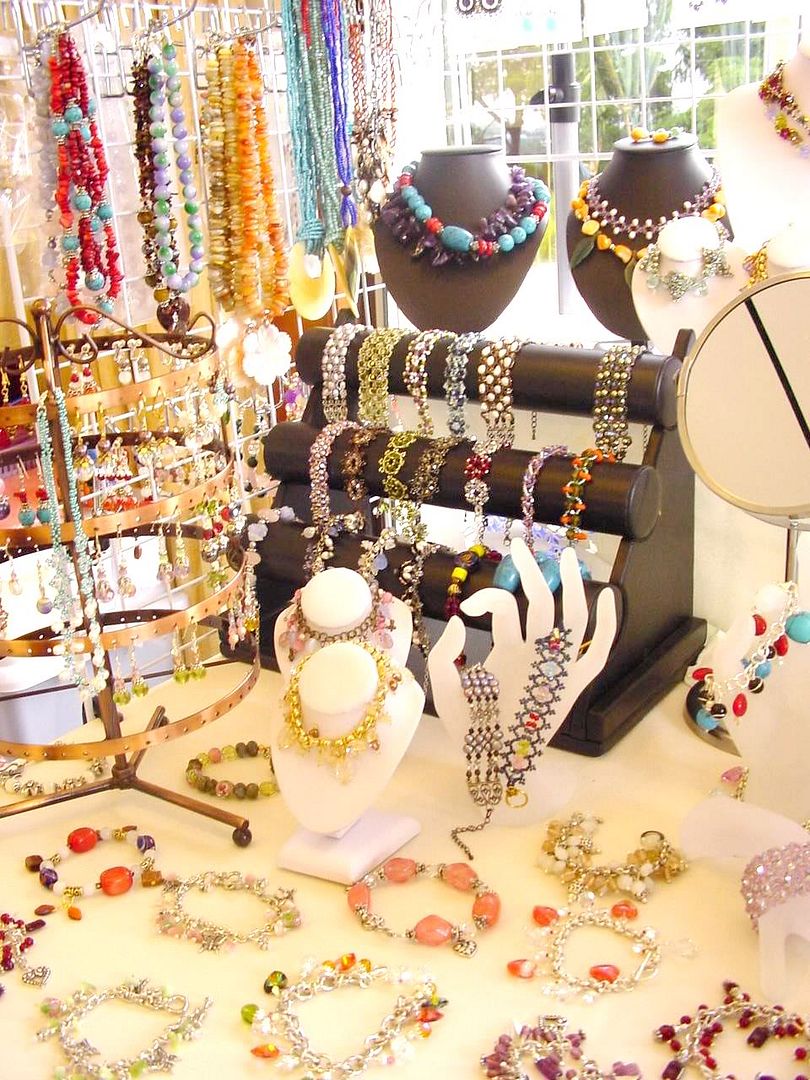 I had been to several Bazaars but one day I decided to try the one at the British club which was ideal and convenient coz I just live behind it. Although I already heard from a few vendor friends that their experiences there was not that good, I just went on to try my luck . Sure enough, I realized that my friends were correct and it was such a bad experience for me not in terms of sales coz I did well selling my unique stuffs but it was the treatment and very unfriendly atmosphere I had that booted me out of there. It was my 1st time and was so dissapointed that my impression of the event ? it would be the last time for me ... I just don't bother to attend the bazaars there anymore eventhough my pockets get fulls but my heart goes empty ... never again ... period !
" THE FAIRE "
HYATT HOTEL Scotts Rd =Dec. 2 2005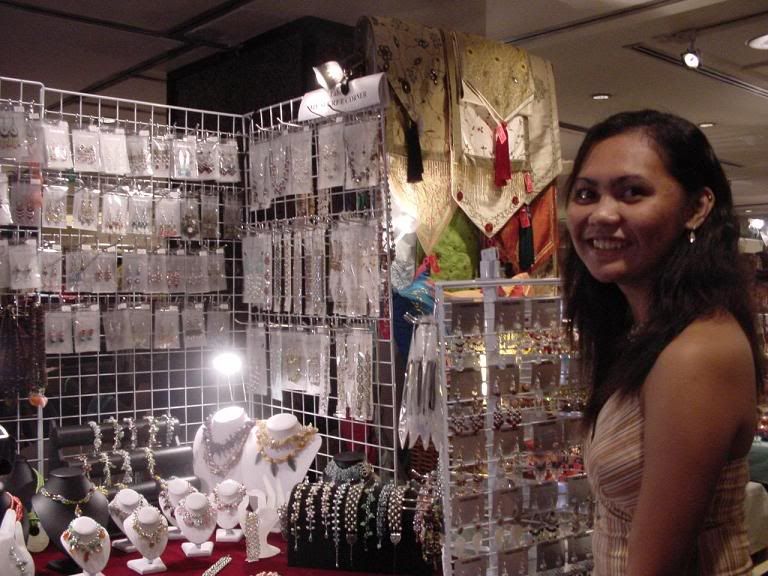 The Faire held at the Hyatt this month of Dec. was so exhausting . Lucky I have a few help from relatives who were around visiting me just like my daughter Barbie who's good enough as a saleslady . This bazaar always has a good traffic flow of people ( buying or not ! )
Sommerville Park ( Feb 2, 2007 )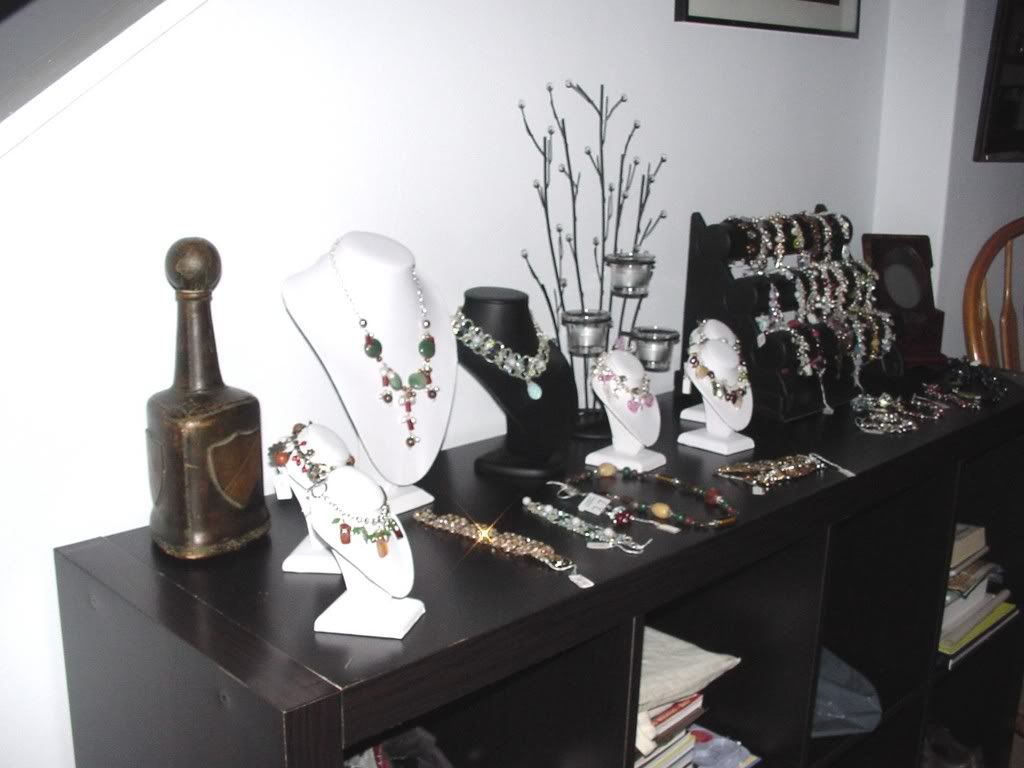 Gladly sponsored by Mrs Alicia Fowler at her residence in Sommerville Park . Such a Great party which started at 7:30pm and lasted till 8am the following day ! Way to go girls !!!
62 Suisse View ( Feb 8, 2007 )
Held at Wella's place ... Swiss View # 01-02 La Suisse 1 . Some Snacks & light lunch provided with another friend rendering ear wax candling & Aromatherapy massage. What a relaxing way to shop & chit chat at the comfort & ambience of a real home!
Margarita's Social Dinner ( Feb 22, 2007 )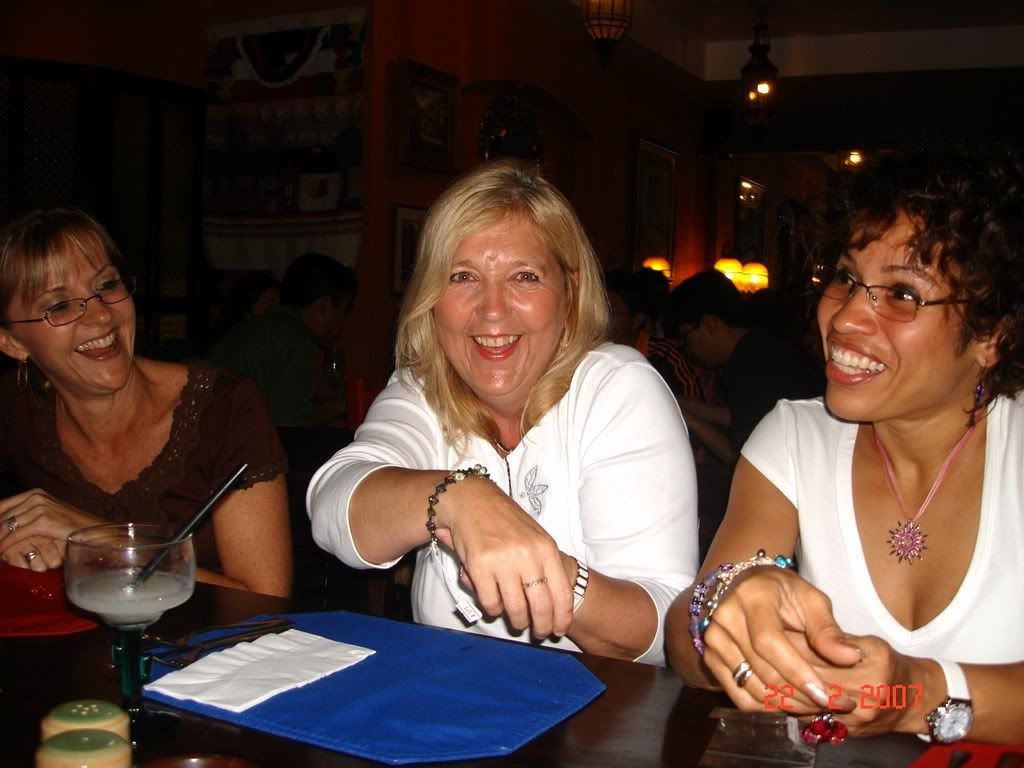 I like this ... ohhh wait a minute... I also like that... ohhh I change my mind again.... I LIKE THEM ALL !!!
= heLocated off Jalan Lempeng near Boon Lay. Mexican Chimichangas was sooo goood !!! Frozen Margaritas are to die for ! With so much so much fun and laughter ... the Ladies of Harley Group was the last one to leave the place even if they still want more ... !
Hollandse Club = April 9,2007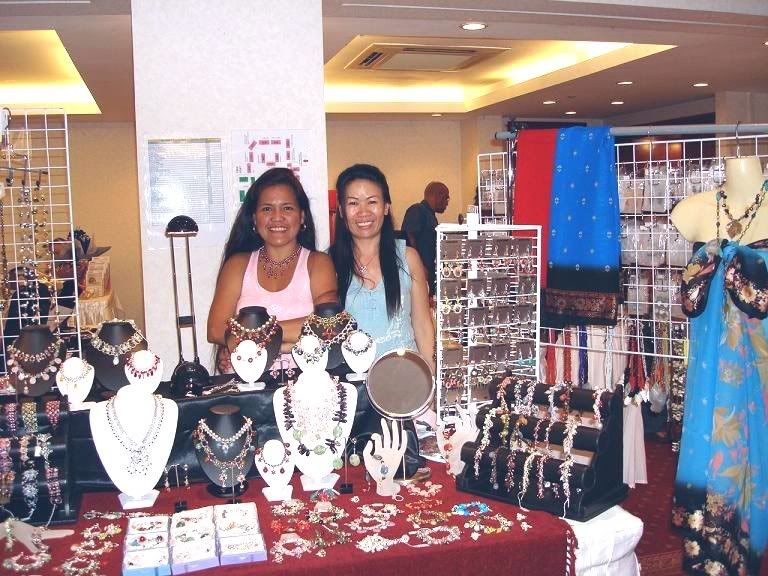 Yearly Bazaar held at the Hollandse Club in Adam Rd. The day was not as fruitful as compared to the previous years I was there . There was too much jewelry vendors ( about 60% of the total vendors were selling nothing else but jewelries ) offering not much variety of goods to the buying pubic. The result was poor sales & no sales at all for certain vendors who attended the fair. It's an absolute waste of time , money for renting the tables and effort attending this event . What a dissapointment indeed ! The organizer profited but not the poor vendors ! Never again I would come to this bazaar ....
The Lazy Lizard Pub ( Sixth Ave ) June 1, 2007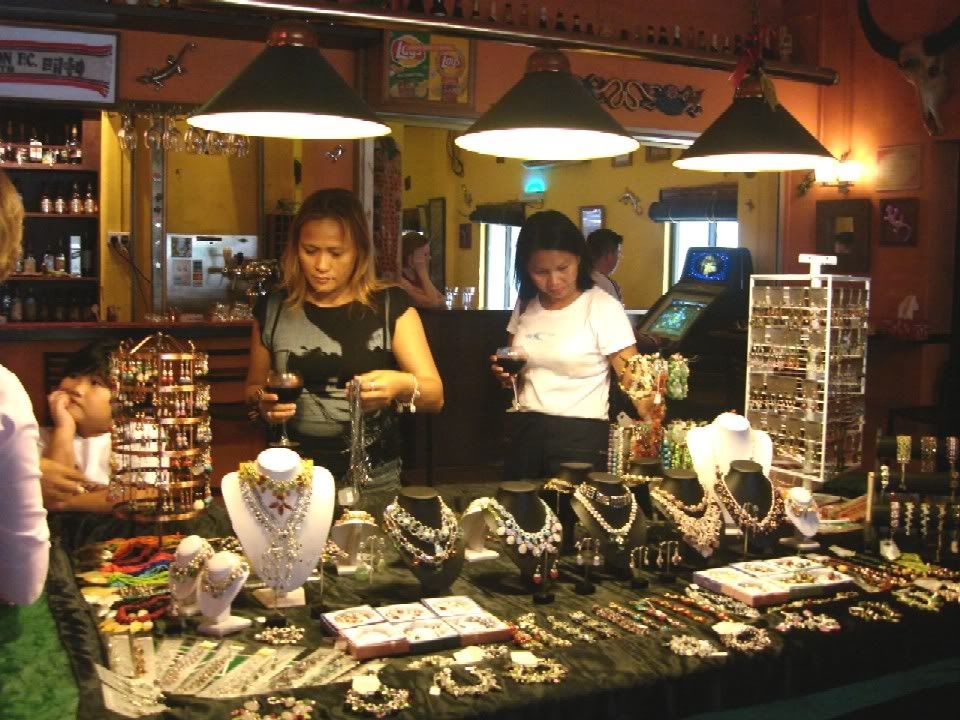 Another one successful Jewelry event held in the afternoon with fun, Drinks / Snacks and some give aways. Only an array of exclusive vendors included those that offer high quality ladies underwear , Novelty Adult toys and My-SECRET-Corner's Uniquely Designed Jewelries added again to the surprise & delight of the buying public who came and joined in the fun. It's another successful event indeed & Many thanks to the organizer of course the LAZY LIZARD Pub ( located in Sixth Avenue beside 7-Eleven )! . Thumbs up for the business guys and thanks so much for the free table space you had provided .
" RAFFLES HALL Concert Bazaar 2007 "
Central Forum ( Library ) Sept 17-18 , 2007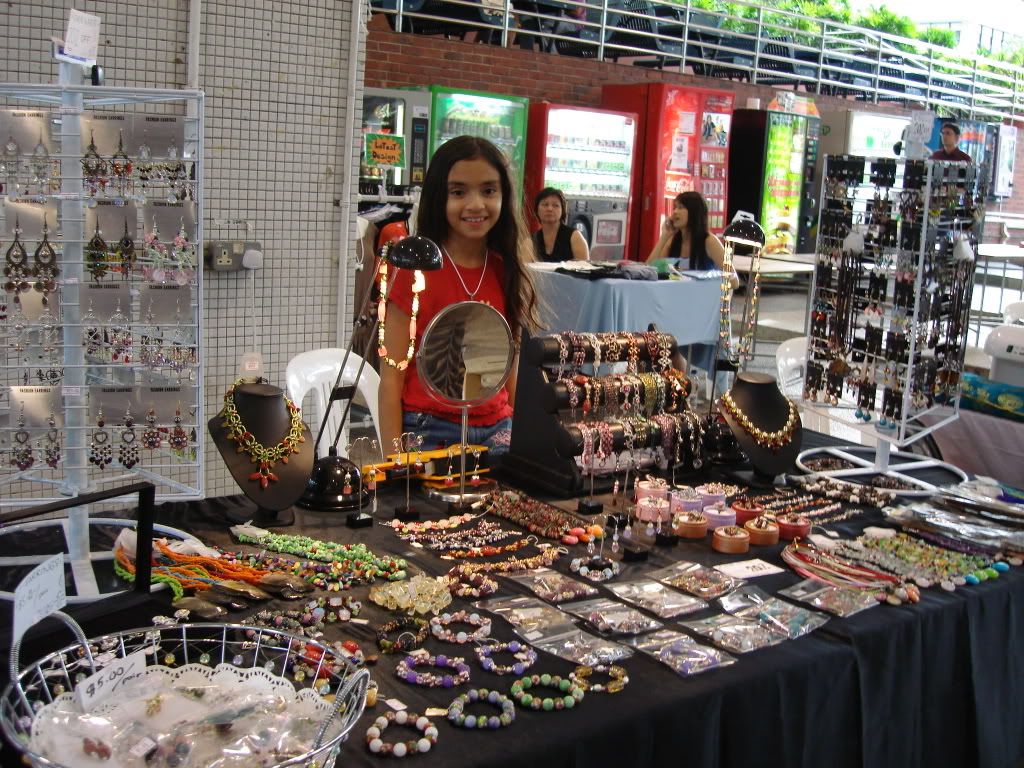 Charity Bazaar held at the National University of Singapore last 17-18th of September at the NUS Central Forum. This charity fund raising event at the Central Forum had approximately 20 stalls of various categories = jewelries , clothings, kids toys & games, knick knack items , beauty products, music cds , etc.. The Bazaar was held at an open space underneath the Library from 9am to 6pm for all 2 days. New jewellery items ( earrings, bracelets & Necklaces ) specially created by My-SECRET-Corner for this venue & priced from SGD$7.00 - SGD$25.00 were highlighted on this special event . Many thanks to the organizers and the help of volunteer students who looked after my stuff there.
Working in N'Craft Room for about 6 months had given Wella more knowledge & Facts on how to operate a Bead shop and to deal with interesting people , young and old who are curious & willing to learn the craft of beading . Thanks for the opportunity & kindness of Naoko who is the main Instructor & owner of the place !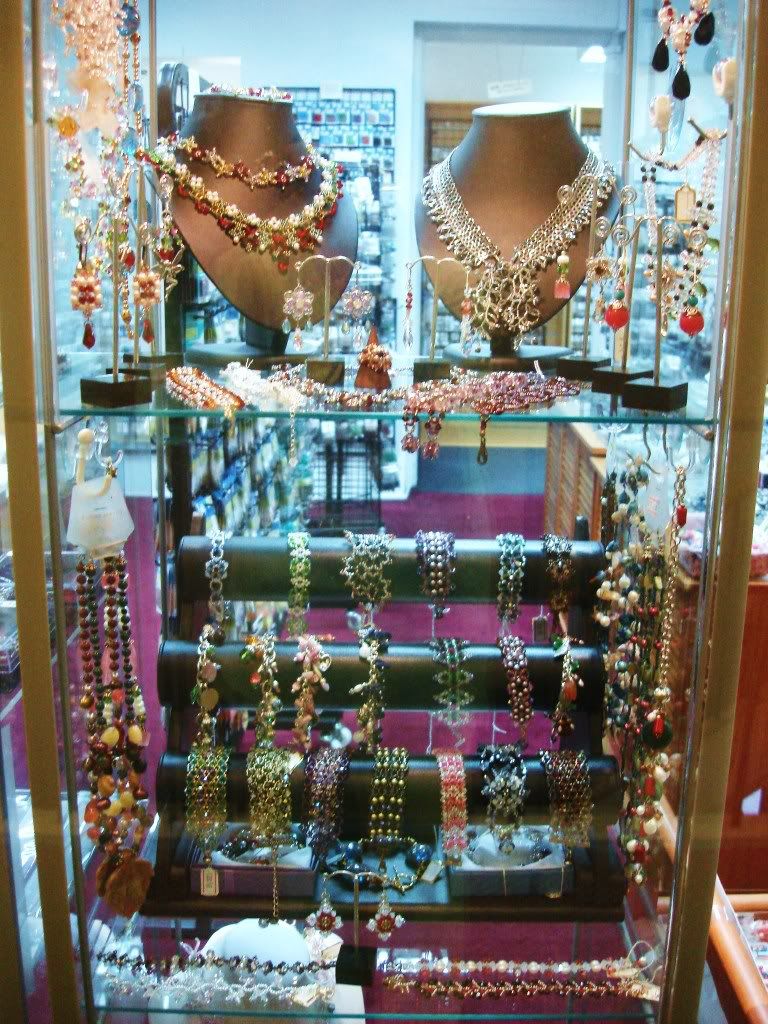 This place is a workshop for Basic & Advance Beading , Polymer, as well as one great place for Silver Clay Courses . These are Arts & Crafts absolutely worth visiting ...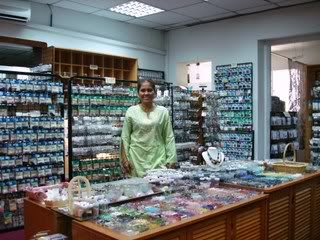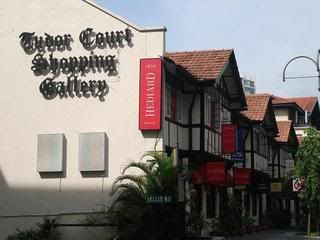 Ideally located and situated at the 2nd Floor of this charming row of Tudor-front shops. ( Next to Tanglin Mall ).
A place worth visiting ....